Erik ten Hag: Manchester United boss says forward Wout Weghorst sometimes 'fails' but keeps going | Football News
Erik ten Hag praised striker Wout Weghorst's commitment and application in the wake of his second goal in Manchester United colours against Real Betis on Thursday, but also admitted the Dutchman has a tendency to 'fail'.
Speaking ahead of United's Premier League meeting with Southampton on Sunday at Old Trafford – seven days on from their seven-goal defeat at Liverpool – Ten Hag said Weghorst gets into useful positions often, but isn't always able to execute the final action.
He explained that the 30-year-old, signed on loan from Burnley in January, is enjoying an abundance of game time thanks to the absence of the injured Anthony Martial, but insists that his positional play and intelligence are assets to United's forward line.
"As you see, he's often in the right position then he fails, but he keeps going," Ten Hag said. "He shows great personality and character, not only in this game [against Betis].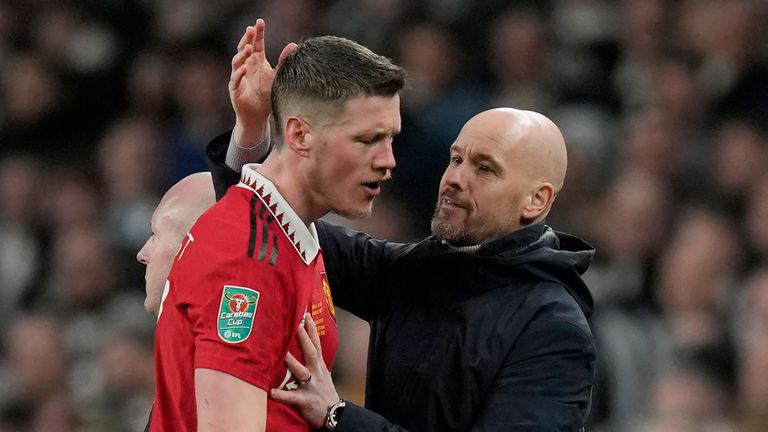 "He keeps focussed, he keeps working, he keeps putting himself in the right positions and finally he got his reward. He's physically capable of playing a lot of games. He's very fit and recovers well.
"Did I expect? I expect that he would play a lot but obviously, we have an injury with Anthony Martial. That's the main reason he's playing from start to almost always finish. He's doing well. As a striker or No 10 in the midfield he's bringing a good performance.
"He has intelligence in positions because he's a good anticipator. I tell him to link up there and he gets in front of the goal when crosses are coming in."
Speaking about the possible return of Christian Eriksen, who has been missing since late January, Ten Hag added: "He will play again [this season], definitely. But I can't say now the expectation.
"His progress in the rehab is okay, so we will see him but not before the international break."