F1 2023: Will Aston Martin capitalise on Red Bull's cost-cap penalty and be title contenders ahead of Ferrari and Mercedes?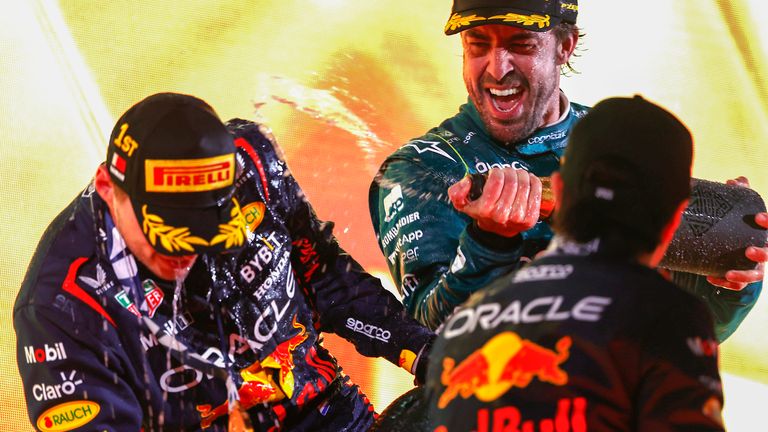 Red Bull were rampant in the F1 2023 season-opener in Bahrain, but Aston Martin are the team turning heads up and down the paddock.
Fernando Alonso's third-place finish on debut for his new team, and Lance Stroll splitting the two Mercedes in sixth while nursing injuries sustained in a bike accident, backed up the promise shown by Aston Martin in pre-season testing and free practice.
It was a marked change from 12 months ago, when Stroll and Nico Hulkenberg – standing in for the ill Sebastian Vettel – were both eliminated from Q1 at the Bahrain GP and finished well outside the points.
The Silverstone-based outfit have transformed themselves from being a midfield runner that finished seventh in last year's Constructors' Championship into the third or possibly even second-fastest car on the grid.
While Alonso admitted his podium had come as a surprise and team principal Mike Krack sought to play down expectations post-race, many are now asking whether Aston Martin are here to stay and can they bring the fight to Red Bull this season?
'Inspirational' Aston Martin take huge leap forward
"Aston Martin had Red Bull worried from day one. Adrian Newey mentioned them in the teams he's concerned about," Sky Sports F1's Ted Kravitz said after testing. "There is genuine pace in this car."
When the AMR23 was unveiled in February, Aston Martin technical director Dan Fallows said their 2023 challenger was 95 per cent different from its predecessor and that the team had looked to be "bold and aggressive" with their development.
Their gains over the winter are most evident when comparing each team's fastest qualifying lap in last year's and this year's Bahrain GP.
The AMR23 was 2.411s quicker than its predecessor over one lap, and that gain is more than double the next biggest improver, Williams (1.203s). In 2022, Aston Martin were over two seconds slower than Red Bull, but this year Alonso was just six tenths of a second off Max Verstappen's pole position, despite the world champion making a 0.973s improvement himself over the past 12 months.
Lead Aston Martin vs lead Red Bull in Bahrain GP qualifying
| | | | |
| --- | --- | --- | --- |
| | Aston Martin | Red Bull | Difference |
| 2022 | 1:32.777 | 1:30.681 | 2.096s |
| 2023 | 1:30.336 | 1:29.708 | 0.628s |
Furthermore, Alonso thinks it is qualifying performance where the AMR23 can become more competitive, having been unable to really challenge Red Bull and Ferrari on the Saturday in Bahrain, even if he did finish ahead of both Mercedes.
"I think the most important point is that the new Aston Martin is just a new car, a new project. This is just the beginning," the 41-year-old said. "This is not the final car, this is just the starting car of this concept that we changed over winter. I think some of the top teams they just kept the philosophy that they had last year. Red Bull or Ferrari they kept more of the same shapes – just fine-tuning things and making perfection of that good baseline that they had.
"We had to change 95 per cent of the car. So, I guess there is more to learn from the car, and there is more to come on our side."
He added: "It's the perfect start for this project. We didn't expect to be that competitive. The aim in 2023 was to be in the mix in the midfield, maybe leading the midfield and getting close to the top three teams eventually.
"Even a podium was maybe even not on the radar in 2023, and we've found ourselves with the second-best car in Bahrain over the whole weekend.
"It's a bit of a surprise, but we are extremely happy with the job done at Silverstone in the factory, so let's enjoy this moment and build from here."
Already Mercedes boss Toto Wolff has said his team will be taking "inspiration" from Aston Martin's turnaround as the eight-time constructors' champions prepare to ditch their current design concept to try and get back into the title fight.
Why are Red Bull unhappy with 'copycat' AMR23?
Crucially, in 2023, Aston Martin have an impressive baseline from which to develop their car. A year ago, the team found themselves having to ditch their initial AMR22 after five races when they realised they had gone the wrong way with their first concept under F1's new design regulations. A 'Red Bull lookalike' would arrive at the Spanish GP, which would go on to score points in 13 of the remaining 17 GPs.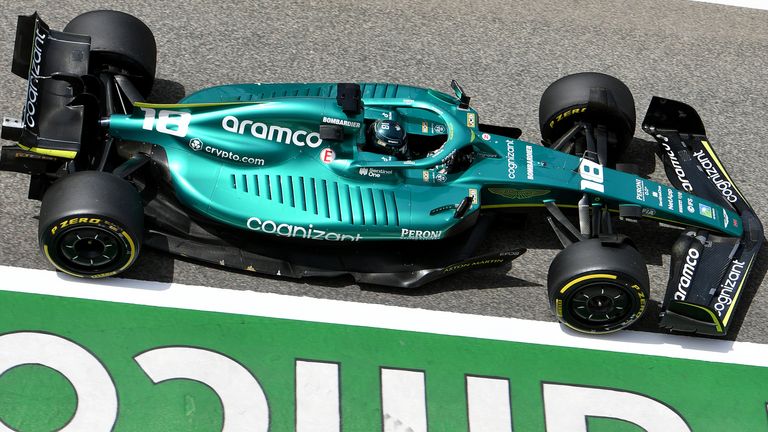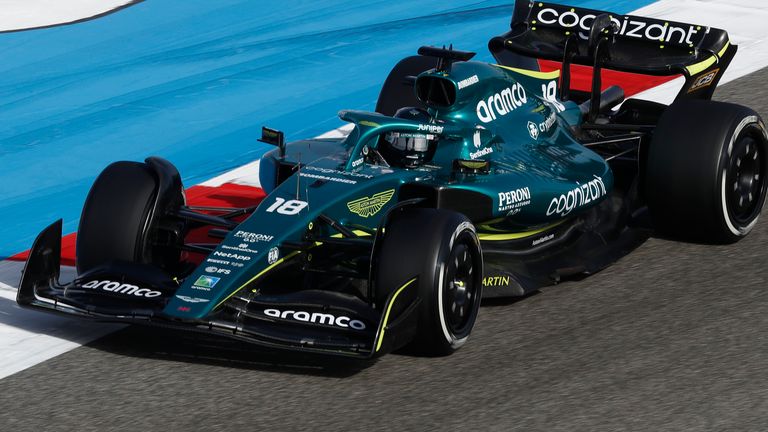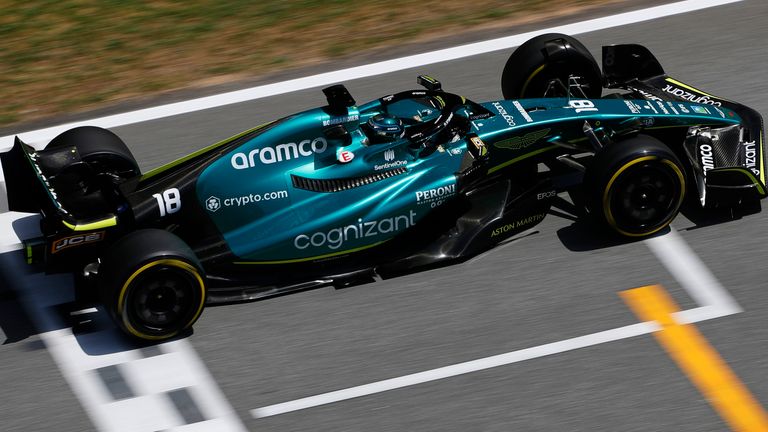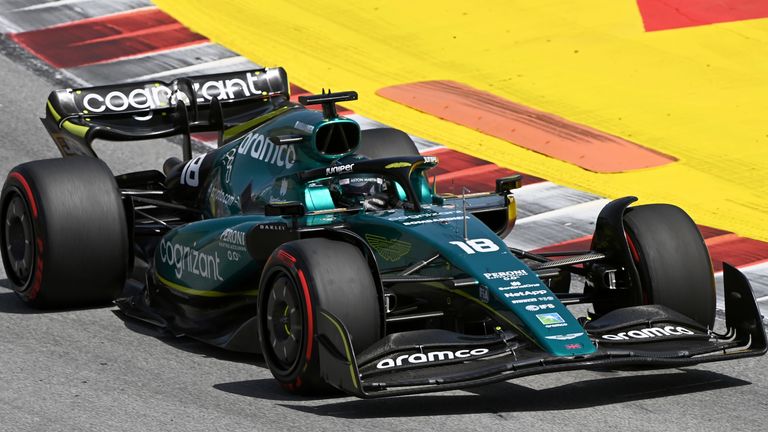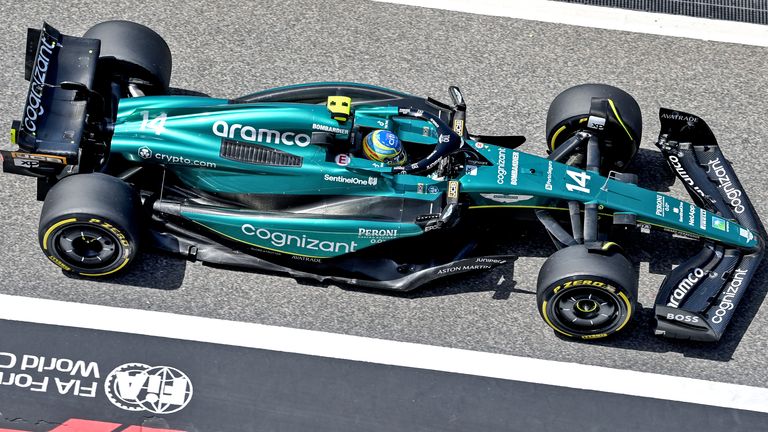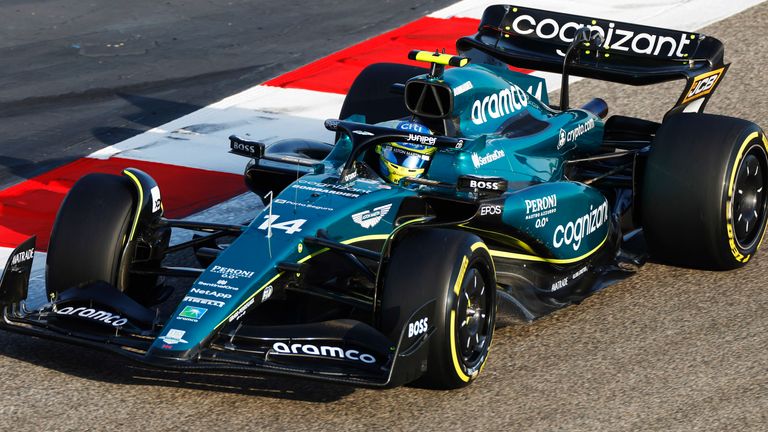 Red Bull were unhappy with the revised AMR22 and questioned its legality but Aston Martin were cleared of any wrongdoing by the FIA.
Technical director Fallows arrived at Aston Martin last April from Red Bull, where he had been their head of aerodynamics. He worked on Red Bull's championship-winning cars of 2010-13 and was involved in the initial development of their 2022 car before his departure.
Post-race in Bahrain, Sergio Perez and Red Bull team principal Christian Horner again commented on the similarity between this year's Aston Martin to last year's RB18.
But speaking on the latest Sky Sports F1 Podcast, Karun Chandhok said: "It's all very well for people like Perez in the press conference saying 'it's a copycat of last year's RB18, there's three Red Bulls on the podium' and everyone making these statements.
"The reality is last year Aston Martin started the year with a car that wasn't very good. They put their ego aside, they were willing to throw away the time and effort that they invested in that and ultimately make the decision for Barcelona to produce a copycat Red Bull, which upset a lot of people at Red Bull last year.
"It kind of meant they wrote off a big chunk of last season while they had to understand. When you go off and copy something, that doesn't mean you fully understand it – we've seen that at Haas before where they've had a copycat Ferrari but couldn't set it up.
"Red Bull were annoyed by it and are still annoyed by it, but Aston spent last year understanding the philosophy and then they've improved on it. They've produced this car which is already based on the strong package of last year."
Will Aston Martin capitalise on Red Bull's cost-cap penalty?
The AMR23 is the first car their new 'dream team of designers' has been fully involved with. Fallows' deputy, Eric Blandin, was previously chief aerodynamicist at Mercedes, helping them to their eight consecutive championship wins.
Aston Martin also poached Andrew Alessi from Red Bull in 2021 to become head of technical operations, while engineering director Luca Furbatto arrived from Alfa Romeo. Aston Martin's "game-changing" new factory will open at Silverstone in the coming months.
And in their bid to close the gap at the front, Aston Martin have a significant development advantage over Red Bull this year.
As part of their penalty for breaching the cost cap for the 2021 season, Red Bull were hit with a further 10 per cent reduction in their wind tunnel time.
Red Bull were already set to have less time in their wind tunnel – where F1 teams test and perfect aerodynamics on their car – than their rivals due to winning last year's Constructors' Championship. Red Bull were due to only get 70 per cent of their wind tunnel time – an average of 28 runs per week – but with the added penalty that was reduced to 63 per cent, or 25 runs per week in their wind tunnel.
Having finished seventh in the Constructors' Championship last year, Aston Martin get their full wind tunnel allowance, amounting to nearly 60 per cent more than Red Bull. The AMR23 will have been conceived when Aston Martin had just a 33 per cent increase in development time on Red Bull.
"In terms of Aston's prospects going forward, a good car works everywhere and gives the drivers confidence. Ferrari might well be a bit quicker than Aston and Mercedes over one lap, but when it comes to the longer stints there's little in it," Sky Sports F1's Martin Brundle said in his latest column.
"It's already a good package but if they know where to go to improve it, then by mid-season they could emerge as the major challengers to Red Bull."
Attention turns to Saudi Arabia
Alonso is now eager to see if Aston Martin's performance in Bahrain can be replicated, starting this weekend in Saudi Arabia on the fast, sweeping Jeddah circuit.
The 41-year-old said: "It seems real, the performance. Let's see in Jeddah. I am curious to go to Jeddah and Australia. Very different circuits…high-speed corners, very little degradation.
"I think in Bahrain, we were strong in things that maybe we don't find in Jeddah, and Australia. So, if we are strong in the next two races, I think we will have a very good 2023."
If Aston Martin can continue the progress they have made over the past 12 months, perhaps an unexpected title race will be the storyline of F1 in 2023.
Sky Sports F1's live Saudi Arabian GP schedule
Thursday
2:30pm: Drivers' Press Conference
Friday
10.50pm: F2 Practice
1pm: Saudi Arabian GP Practice One (session starts 1.30pm)
2:55pm: F2 Qualifying
4:45pm: Saudi Arabian GP Practice Two (session starts 5pm)
6:15pm: The F1 Show: Saudi Arabia
Saturday
1.15pm: Saudi Arabian GP Practice Three (session starts 1:30pm)
3:05pm: F2 Sprint Race
4pm: Saudi Arabian GP Qualifying build-up
5pm: SAUDI ARABIAN GP QUALIFYING
Sunday
1:35pm: F2 Feature Race
3.30pm: Grand Prix Sunday Saudi Arabian GP build-up
5pm: THE SAUDI ARABIAN GRAND PRIX
7pm: Chequered flag: Saudi Arabian GP Reaction
Watch the Saudi Arabian Grand Prix live on Sky Sports F1 this weekend with Sunday's race live at 5pm. Get Sky Sports