Gary Lineker: Sources close to Match of the Day presenter confident of resolution with BBC in next 24 hours | Football News
Sources close to Gary Lineker say they are increasingly confident his dispute with the BBC will be resolved to his satisfaction in the next 24 hours, Sky News understands.
Sky News also understands there could be a statement on the Lineker issue as early as Monday morning with reports claiming the Match of the Day presenter will be back on air next Saturday.
It follows a tumultuous weekend for the BBC and its football shows, notably Match of the Day on Saturday evening which had a much shorter airtime of 20 minutes, without commentary, pundit analysis, post-match interviews or theme music.
Lineker has been involved in a row over impartiality by comparing the language used to launch a new government asylum policy with 1930s Germany.
MPs Brendan Clarke-Smith and Yvette Cooper react to the news that the BBC has removed Gary Lineker from his presenting role on this week's edition of Match of the Day

He was suspended by the BBC from presenting MOTD as they said in a statement he would "step back" from hosting the weekly football highlights programme.
Sky News understands that Lineker had refuted this wording and that the corporation had instead forced him off air as he was unwilling to apologise for the comments he had made.
Pundits Ian Wright and Alan Shearer both announced they would not appear on Match of the Day, and a plethora of presenters, former footballers and commentators followed suit in not participating in the BBC's weekend football shows.
Lineker, who has not tweeted or commented publicly since he was suspended by the corporation on Friday, dodged reporters' questions again as he left his home in south-west London to walk his dog.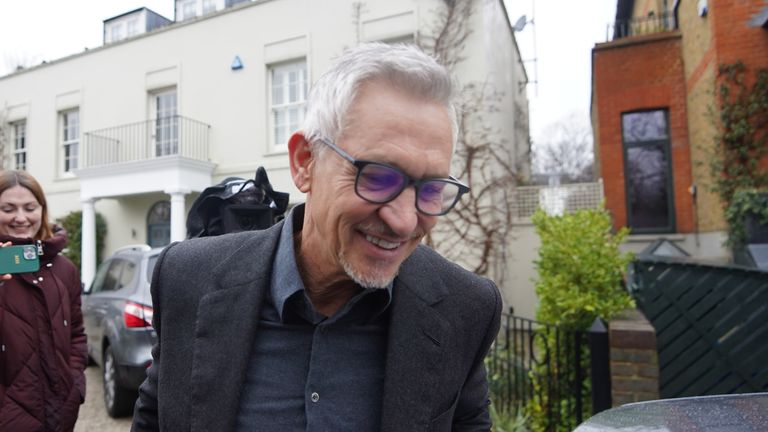 "I can't say anything," he told the media.
Meanwhile, Match of the Day 2 was only 14 minutes long on Sunday night. Jermain Defoe had previously announced he would not appear as a pundit on the show.
On BBC Two, the Women's Super League Chelsea vs Manchester United match kicked off with no pre-match presentation and no pundits – it aired live using world feed commentary.
BBC Radio 5 Live programme schedules were also affected for a second day.
Chancellor Jeremy Hunt, speaking to Sophy Ridge on Sunday, said he "profoundly" disagrees with Lineker's comments.
"If you believe in BBC independence, then it's not for the chancellor or any other government minister to say how these issues are resolved," he said.
Mr Hunt added: "The central thing that people want to know is that there isn't any kind of political agenda in the way the BBC goes about its business, which I'm not saying there is, but that is the confidence people need to have."
How the BBC boycott started
The boycott began when former Arsenal striker and pundit Wright said on Friday evening that he would not take part in Saturday's Match of the Day programme in "solidarity" with Lineker, while former Newcastle and England striker Shearer later announced he would also not be taking part in the show.
In Friday's episode of his podcast Wrighty's House, Wright added: "I'll tell you something. If they do – the BBC get rid of Gary Lineker – I'm out, I'm gone. I'm not staying there. On his own platform he should be able to say what he wants to say."
Former Arsenal and England defender Alex Scott ruled herself out of presenting Saturday's MOTD, by tweeting: "FYI…" and a GIF which quotes "Nah! Not me".
MOTD regulars Micah Richards and Jermaine Jenas also said they would not be appearing on the show.
Final Score and Football Focus were pulled from BBC One on Saturday after their respective hosts, Jason Mohammad and Scott, said they would not host their shows.
BBC 5 Live's Fighting Talk also did not air on Saturday morning for what host Colin Murray said were "obvious reasons" and host Mark Chapman withdrew from hosting BBC Radio 5 Live Sport.
Premier League players were also not asked to do interviews for MOTD on Saturday and instead did interviews for BBC Radio.
Why is the focus on Lineker? What are the BBC guidelines?
Sky Sports News chief reporter Kaveh Solhekol:
"Lineker signed a five-year deal with the BBC in 2020 and he agreed to adhere to their impartiality rules.
"Now, the rules are a little bit different depending on what area of the BBC you work in. For instance, if you work in news and current affairs as a journalist, the rules are very strict. You have to be totally impartial.
"But of course, Lineker doesn't work in news or current affairs. He works in the sports department so he has a little bit more freedom, but he still has to avoid bringing the BBC into disrepute, and as a high-profile figure on the BBC, he has additional responsibilities.
"According to the BBC, they expect these individuals to not take sides on party political issues or political controversies.
"A lot of people will be saying, what about other people who appear on the BBC? Do they adhere to these rules?
"What about the chairman of the BBC himself, Richard Sharp, who is somebody who has donated £400,000 to the Conservative Party? He is somebody who has helped to arrange an £800,000 loan for the former Prime Minister Boris Johnson.
Sky Sports News' Kaveh Solhekol explains why the BBC has announced Lineker is 'stepping back' from his duties as Match of the Day presenter

"What about another member of the BBC board, Sir Robbie Gibb. He was of course the former communications director for Theresa May, the former Prime Minister.
"So, there are a lot of people coming to the support of Lineker and saying why is it that he is being picked on? Why are sections of the media and the press just focusing on Lineker? Why are we talking about Lineker when we should be talking about the government's proposed new asylum policy, which has been criticised by human rights groups and it has been criticised and condemned by the United Nations?
"I was at the World Cup in Qatar. When it comes to criticising Qatar about human rights issues, it appears that everybody is allowed to say what they want in this country. Lineker was allowed to criticise the human rights record of Qatar on the BBC but why is he not allowed to comment on the human rights record of the country he lives in?"