Grimthorpe Handicap Chase: Runner-by-runner guide and big-race verdict from Jamie Lynch! | Racing News
Our senior form analyst Jamie Lynch gives his verdict on Saturday's showpiece Grimthorpe Handicap Chase on Town Moor, live on Sky Sports Racing.
The Virgin Bet Grimthorpe Handicap Chase has changed character over the year, from its early days as a two-miler to its current incarnation as a long-distance handicap and as something of a Grand National trial, coming as it does after the weights have been published, though that's not the case this time around with only one National entry in the field, and the sorry Sporting John is a big price for Doncaster never mind Aintree.
The race is naturally tied to the valuable Sky Bet Chase at the South Yorkshire track in late-January, and sure enough three are coming on from that, including the winner Cooper's Cross, who's still off just 10-4 because of the heavy-hitter at the top of the weights, Does He Know running off a mark of 157 after the Denman Chase.
Let's look in detail at all of the runners for the big race on Saturday, live on Sky Sports Racing.
DOES HE KNOW
Jockey: David Bass | Trainer: K C Bailey
Since the Grimthorpe Chase was made an open-ended handicap after 2005 (formerly a 0-145), only one horse has run off a higher mark than the 157 that Does He Know competes from, and that one was likewise trained by Kim Bailey, The Last Samuri runner-up off 161 the year after he won it and finished third as joint-favourite in the National.
Such a high mark means that Does He Know has to give away upwards of 16lb and therefore the question is simple: is he worth the weight?
The answer, on the face of it, is yes, because he conceded 4 lb to both Zanza and Hitman, now rated 158 and 159 respectively, when chasing them home in the Grade 2 Denman, and it hardly came from out of the blue as prior to that he overcame a mark of 152 in a Cheltenham handicap when beating two next-time winners, built to carry big weights, having 12-0 there as here.
Conditions are perfect for him – he's a stayer who doesn't want the mud – and, such is the bottom-up loading of this handicap, his class could count as the single biggest determining factor.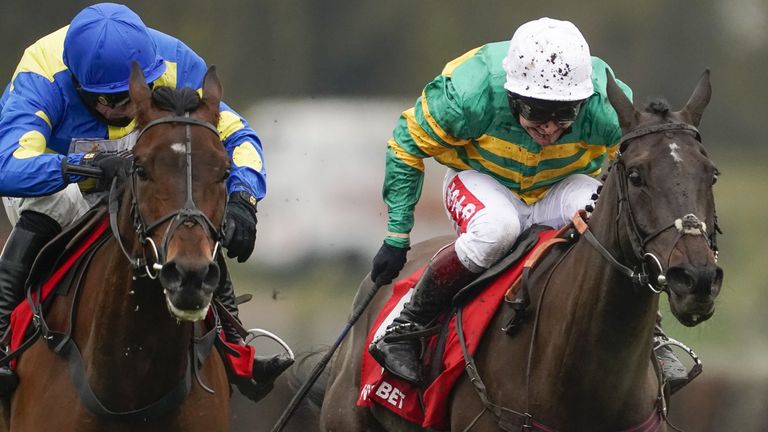 SPORTING JOHN
J: Aidan Coleman | T: P J Hobbs
His career has been a rollercoaster ride, now slowing to a stop, so it seems. Two years ago, he won the Grade 1 Scilly Isles Novices' Chase, a year ago he had reinvented himself as a staying hurdler, but this season has been a washout, pulled up then beaten a distance respectively in premier handicap chases the last twice, and patience is wearing thin.
We know that because this is the quickest turnaround of his life, just two weeks, and, most meaningfully, they're now experimenting with headgear, an admission of the struggle to get him out of a slump.
Another wind op ahead of Ascot didn't remedy anything, pretty lifeless there, and it's a complete leap of faith to back him to revive at Doncaster.
WINDSOR AVENUE
J: Ross Chapman | T: B Ellison
Psychologists call the phenomenon "personality maturation," which is the nice way of explaining the effects of aging on our aptitude and behaviour.
In the case of Windsor Avenue, now aged 11, the older he has got the more occasionally he has shown his form: in his last eight races he has run to his rating only twice.
One was in the Sky Bet Chase of 2022, which he won against the odds (40-1), but in the same race this January he was left looking his age up the home straight, inheriting fourth as others fell, some 15 lengths behind Cooper's Cross. This looks another uphill struggle for him.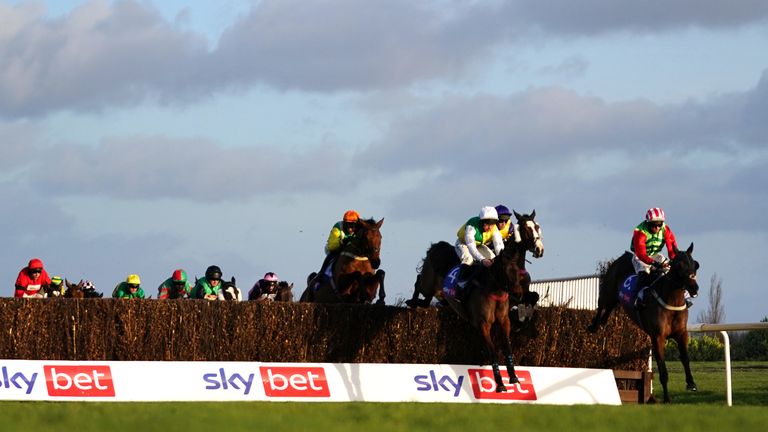 CASTLE ROBIN
J: B S Hughes | T: C E Longsdon
The surface stats tell the truth of his trajectory: in his eight chases, he has won four of them, from the Dave Brailsford school of marginal gains, as his rating has increased just 10 lb along the way, his incremental improvements making it hard for the handicapper to get to grips with him.
Refreshed by a short break, he resumed his rise at Sandown last month, sent off at 10/1 but getting into a great rhythm and seeing off arguably a more competitive field than this one.
The things you know are that he'll be positively ridden, jump well and try hard, and the thing nobody knows is his ceiling, as he's got that happy habit of finding a bit more whenever it's needed.
He's 1 for 1 over fences at Doncaster and partnered for the first time by Brian Hughes, both positives, along with his up-and-coming profile, of which there are so few in this field.
NEVILLE'S CROSS
J: R T Dunne | T: Tom Lacey
It was the best of times, it was the worst of times. The best of times for Neville's Cross was the 12-month period between July 2021 and July 2022 during which time he won five handicap chases and climbed 17lb in the ratings.
However, he's now in the midst of the worst of times, having a race a month since October and each one passing him by, his mojo well and truly lost.
In theory he's well weighted, sliding down the handicap, but in practice there's no sign of a rebound, nor any reason for it, no break and no difference here other than a change of rider, Robbie Dunne getting a go on him.
COOPER'S CROSS
J: Sam Coltherd | T: W Coltherd
A series of small advances made way for a bigger one when he won the Sky Bet Chase, first-time cheekpieces a catalyst, and he looked to have Ga Law's measure even before that one departed at the last, leaving him to beat Cap Du Nord, who showed the strength of the form by winning a higher-value handicap at Ascot the following month.
The 5lb rise in the handicap for that looks generous if anything and the presence of Does He Know at the top of the weights means that, in real terms, Cooper's Cross's load is lighter still here than in the Sky Bet in which he carried 10-06.
That said, his mark is higher, and the trip is longer, by 447 yards, not inconsequential for one who did almost all of his chasing prior to the Sky Bet around 2½m and, for one who has few miles on his clock, there's the question of the hangover from a hard race, even with a month off.
UNDERSUPERVISION
J: Sam Twiston-Davies | T: N A Twiston-Davies
Firstly, the conspicuous positives – he won this very race last year, from the very same mark, and so he can pack with him for Doncaster the t-shirt emblazoned with 'been there, done that.'
The problem is the reason why he's back to the same rating, because he hasn't kicked on this season, disappointing more often than not, and though he was staying on when unluckily unseating at the second last in the Sky Bet (faller in front of him), he wasn't threatening Cooper's Cross, and he was hard work again, not looking in love with his job right now.
Given the significant dots to join up, he's an easy sell, but a hard horse for me to back, coming with complications, having failed to complete on three of his four starts since last year's Grimthorpe win.
MORODER
J: James Best | T: J W Mullins
Was just trundling along the career runway before unexpectedly taking off last mid-winter, going up and up with four wins in a row, the last of them his easiest.
However, all of that has been overshadowed to an extent by his dismal performances since an absence, unrecognisable at both Newbury and Wincanton. It's an uneasy approach to the best race he's ever contested, here at Doncaster, highlighted by the fact he's marginally out of the handicap.
There's no recommending him on what we've seen this season.
JAMIE LYNCH'S VERDICT
There's no arguing with Cooper's Cross being favourite after the Sky Bet Chase, but his mark his higher, the trip is longer, and his price is considerably shorter, all of which sends me elsewhere.
There's a case for the class of Does He Know proving pivotal in a lop-sided handicap, but he normally makes a mistake or two, and therefore the rise and rhythm of CASTLE ROBIN is perhaps the way to go, as there's no cap on his rise so far and the rhythm he gets in may make him hard to catch.
Watch the Virgin Bet Grimthorpe Handicap Chase from Doncaster live on Sky Sports Racing (Sky 415 | Virgin 535) on Saturday 4th March, 2023.