Molly 'Meatball' McCann: I want to empower women in MMA | 'I feel bulletproof despite recent UFC loss' | MMA News
The UFC's Molly 'Meatball' McCann tells Sky Sports she wants to empower women in MMA, even her opponents, adding she feels "bulletproof" despite defeat in November. 
Speaking exclusively to Sky Sports ahead of International Women's Day, McCann – having recently given a tactical breakdown of Alexa Grasso's defeat of Valentina Shevchenko at UFC 285 in which she praised both fighters – admitted she wants all female competitors in her sport empowered.
"Anything can happen. It's why we love this sport. Look a woman in sport always needs a bit of positivity and a bit of looking after," McCann said.
"So I think if I can shine the light on anyone to succeed, especially women, I think that's what we should do.
"Try and empower each other, and not just always with the s*** talk, even though I am good at it! We don't always need it."
McCann suffered defeat in her last UFC bout to Erin Blanchfield in mid-November at UFC 281, and despite feeling "heartbroken and embarrassed" at the loss, says she now feels "bulletproof" ahead of her next prospective fight in June.
"Here's the thing, Erin Blanchfield handed me my a***. And I have handed other fighters it, and whoever gets their game plan off first, with emotion out of it, normally wins.
"If I start a fight on my front foot and put the pace on that person, I win. If I fight someone and they put the pace on me and their style beats mine, then they'll win. It's just the way fighting goes.
"To see her [Blanchfield] annihilate Jessica Andrade [in February], a former world champion who knocks everyone out and submits everyone, it made me feel a lot better about myself.
"I feel every flyweight in the UFC will have a newfound fire under them.
"I have to say after that fight [defeat to Blanchfield in November], I was heartbroken and embarrassed.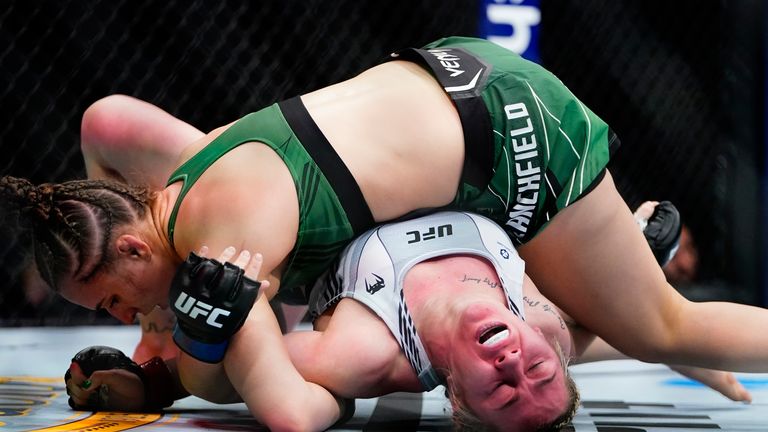 "And you don't have to be embarrassed in our sport, but I'd never really spoken up and said: 'I'm going to be the champ', but I'm on this journey to greatness, and just because of my finishes and sponsorship I became this hype train.
"But there's no hype. I'm 10 fights into the UFC with six wins and some of the best knockout finishes in women's combat sports.
"I got beat by an absolutely prolific grappler."
'Meatball' McCann grabbed Stormzy in a slam after he visited her and Paddy Pimblett backstage at UFC London

McCann confirms she has had to deal with social media abuse since the defeat, but is fully focused on returning to winning ways.
"I can't wait for my next fight in June because the person I've been given, and I'm not at liberty to say until the UFC release it, is no slouch, black belt in jiu-jitsu, very high ranked, good fighter.
"It's for me to get my own back. You should feel maybe a bit more apprehensive after losing, but I feel bulletproof.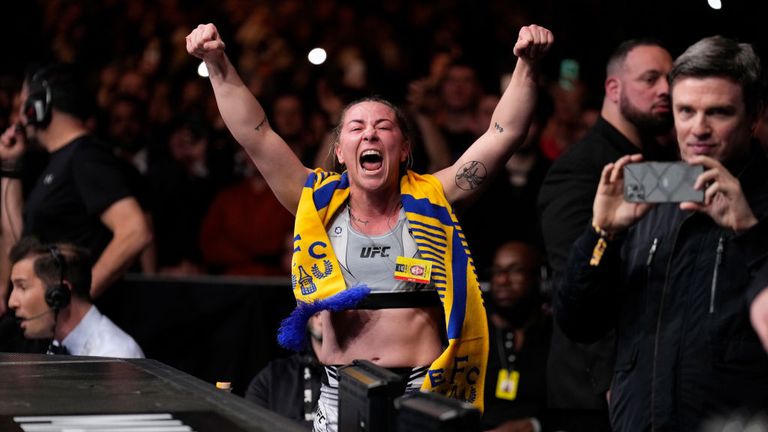 "The s*** I've had to take off people since that last fight, and how the dark side of the internet came for me really made me grow as a person.
"And to everyone who threw shade my way, I can't wait to ram it down your throat in June. I'm coming for you all.
"Why is everyone else allowed an opinion on me or a situation and that's fine, but if Molly McCann or Paddy The Baddy say anything, everyone is up in arms?
"It is what is. I don't read comments and I try to live my truth on social media. If I'm having a s*** day, I'm having a s*** day, if I'm trying to change the world I'm bringing you all on the journey with me.
McCann gifted UFC champion Israel Adesanya an Everton shirt signed by Alex Iwobi ahead of UFC 281

"I'm always going to be that. And if it takes me to be that strong person to put up with the bulls***, and my mental health be questionable at times, just so the youth can come through and see what I'm doing and I inspire them, then that's what I'm supposed to do.
"That's how I'll serve my purpose."