Ollie Pope: England batter says 'BazBall' approach has taken pressure off him in Test cricket | Cricket News
England batter Ollie Pope says the team's positive approach to Test cricket over the past year under head coach Brendon McCullum and captain Ben Stokes has helped remove the anxiety he used to feel prior to playing.
Under McCullum and Stokes' unique brand of cricket, dubbed 'Bazball' in homage to the new coach, England have won 10 of their last 12 Test matches, having triumphed in only one of their prior 17.
Over that spell, Pope – who made his Test debut back in 2018 – has seemingly finally cemented a place in the side batting at number three, with his Test average improved by 10 runs from 28.66 to 38.52 in the past 12 months.
"I used to go into a Test series, probably more anxious than excited," Pope told Sky Sports.
"I'd be thinking 'if I don't do well, this could be my last.'

Tuesday 14th March 8:30am

"But we're such a close group, playing such a fun brand of cricket, that it has taken that pressure off.
"It has made Test cricket 10 times more enjoyable for pretty much everyone in that changing room. We've seen that with the results on the pitch."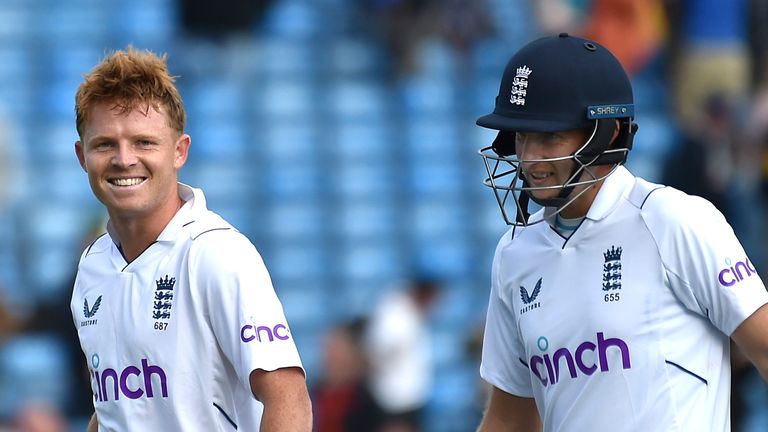 "We're constantly learning. Even Joe Root, probably England's greatest ever batter, is probably feeling like he has only just cracked it now, after having had some time where he felt like he was trying to force something he didn't need to."
'Pakistan Test the highlight of amazing winter'
England, last summer, completed a 3-0 whitewash of New Zealand and beat South Africa 2-1 – with a solitary Test win over India sandwiched in between. Over the winter, they became the first team in history to sweep Pakistan 3-0 at home, before then tying a two-Test tour of New Zealand in the most thrilling of circumstances.
Having won the first Test at a canter by 267 runs, England succumbed to a one-run defeat in Wellington when chasing 258 to win in one of the greatest Test matches ever played.
With such a plethora of highlights to pick from, Pope singled out the first day of the first Test in Pakistan as his, with the tourists amassing a colossal 506 runs for the loss of only four wickets in 75.0 overs.
With England only clinching a 74-run win in the final session on the fifth day of the Test, Pope – who notched a third Test ton in that first innings – believes the approach on that opening day was key in setting up their success for the winter ahead.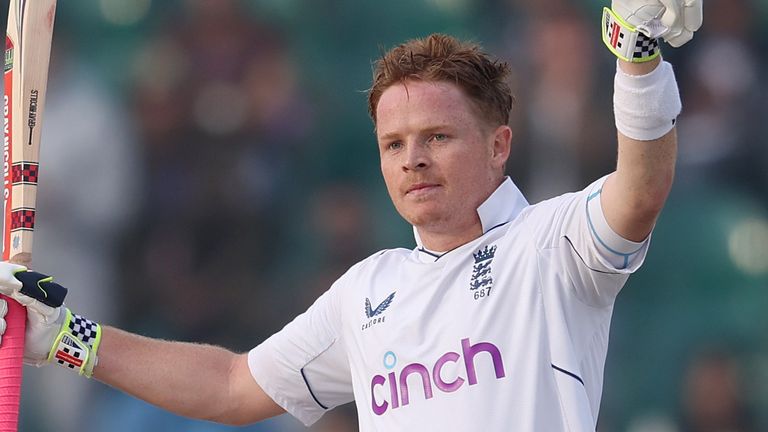 "It was a shame we couldn't come back with a [series] win from New Zealand, but the chats after that last Test when we lost by one run were, 'how entertaining was that?'", Pope said.
"It was an amazing winter. We went from two extremes: Pakistan, where you face a lot of spin, to New Zealand, where we played on some pretty good wickets actually.
"That first Test in Pakistan has got to be the highlight. That was probably the biggest step forward for us.
"It was a crazy first day. But we didn't even talk about, 'let's smash it, the pitch is looking flat'. The way that we're encouraged to play, it meant that it just naturally happened and naturally unfolded.
"We managed to drive that game forward as quickly as possible with the bat, allowing ourselves that extra day to bowl them out.
"We were prepared to put ourselves in a position where we could have lost a game we felt like we dominated for four days, in order to give ourselves a better chance of winning and to go 1-0 up in the series."
Pope: 'No conversations' on possible white-ball role
Pope now has some time off, following the events of England's white-ball tour of Bangladesh from inside the Sky Sports studio ahead of his return to Surrey in preparation for the start of the county summer – and with an Ashes series on the horizon in June.
Highlights of England against Bangladesh in the second T20 international from the Sher-e-Bangla National Cricket Stadium, Mirpur

Yet to play for England in either of the shorter formats, and with England lacking in batting depth for the T20 leg of their tour, Pope was asked if he'd have been keen to have been involved.
"Absolutely," he said. "Any opportunity to play for your country is one you've got to take – and we've got a bit of a break now.
"At the minute, the message has been to keep nailing down that number three spot [in Test cricket]. There have not really been any conversations to be had.
"To be honest, over the last few years, I've just not played as much white-ball cricket as I'd have liked to."