PGA Tour announce more no-cut designated events in schedule from 2024: How do they differ from LIV? | Golf News

The PGA Tour will have eight designated 'no-cut' events in their 2024 schedule, all with reduced 70-78 player fields and offering elevated purses and FedExCup points; PGA Tour commissioner Jay Monahan said the changes will "transform and set the future direction"
Last Updated: 02/03/23 9:31pm
What will the PGA Tour's schedule look like in 2024 and what will it mean for those across all levels of the game? Former major champion Rich Beem looks at how golf will look next season and explains why the designated events can't be compared to the LIV Golf League circuit…
The changes made to the PGA Tour schedule are interesting to say the least, with the direction they are going in something they have probably been thinking about since long before LIV became part of the conversation.
Rory McIlroy mentioned to me at the Genesis Invitational last year that some big changes were coming to the PGA Tour, which suggested to me more money and improvements were coming, so what we saw announced this week I think is them doing exactly that.
What we're going to get with the changes to the PGA Tour are it becoming a better product where it aligns itself closer to something like the F1 calendar or the Premier League, where you know where and when the best of the best will be competing against each other.
The one thing that it's probably going to eliminate is the fact you're going to have the same players in these designated events over and over again, but you also have the opportunity to see young fresh faces play their way into these tournaments.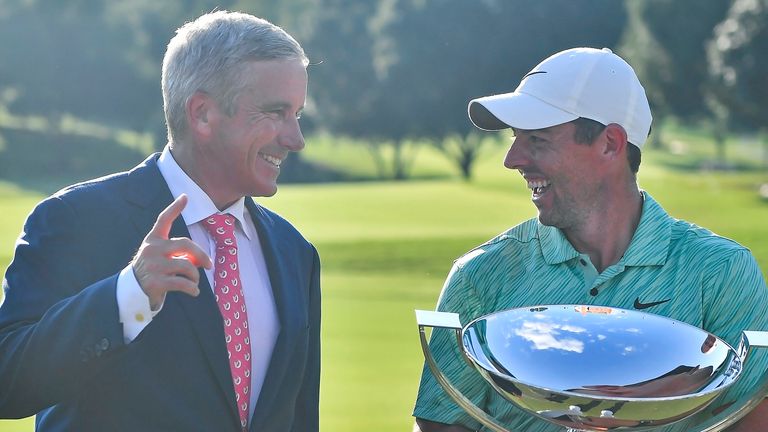 A lot of people are going to think it's like a two-tier tour, but it has always been like that so let's not try and pretend otherwise! What we're going to have now is basically a clear way of showing the events where every professional golfer wants to be at and showing the avenue of getting there.
The people that criticise it are quick to judge and often don't take a step back to think about what it means for the sport. People are bemoaning the fact that there will be more limited-field events with no cut, but we had those for years with the World Golf Championships so it's nothing new.
The Players Championship Live
March 7, 2023, 2:00pm
Live on
I understand the criticism and accusations that they are only making these changes because of LIV, but to criticise them for 'following suit' in this and that is just wrong – the PGA Tour are just out here to identify the best players in our sport.
How similar are the designated events to LIV?
There are always going to be some questions about whether this is in response to LIV and I think the LIV players are always going to suggest that the PGA Tour are just imitating what they're doing, but I just don't see it that way at all.
The one massive difference with the PGA Tour changes versus what LIV offers is that you've got to play your way into these designated events, so it's more than just signing on the dotted line and being given big amounts of cash to be on a designated team.
This isn't a crack against the guys on LIV at all, but they get something guaranteed for their whole season regardless. They have contracts to play for a year or two and they know what the money is, so it's a massively different world to one where not everybody is definitely getting a spot in an event.
You will still have to go out there and prove your worth in order to qualify for these designated events on the PGA Tour, so it's not automatically given to you and you still have to earn that right to play in them.
There are still going to be some fluctuations, albeit at the bottom end as opposed to the likes Rory McIlroy and the biggest names being kicked out, but you're going to have some players that are having to play their absolute best to get into them.
The bottom portion of LIV leaderboards right now often have the same five or six guys miles behind the winners. That can always happen, but I think these designated events will get the hottest players from that moment instead of players just automatically in as part of a 14-week season.
A better schedule for everyone?
Just because you're in a designated event it doesn't guarantee your future at the top at all. Yes, you're guaranteed a pay cheque and a few FedExCup points, but you're not going to get many points if you're not playing well!
The changes to the schedule arguably make those full-field events more important to every player on the PGA Tour, not just for those who aren't near the top of the world rankings and looking to get into those biggest tournaments.
The Players Championship Live
March 9, 2023, 11:30am
Live on
I think it makes the product better, as you're going to have those young, hungry guys who want to show how good they are, but also some guys who aren't at the top of their game and wanting to earn points to avoid slipping out of the biggest events.
If those guys at the higher end of the world rankings are not playing great and want to stay in those designated events, they will have little option but to go into these other events to try and pick up some much-needed points.
I don't think it's going to make guys play less and less, like some have suggested. If anything, it could end up adding one or two more events to most people's schedules to avoid running the risk of them slipping out of the top tier of tournaments.
There are still going to be plenty of other players that aren't near the top of the world rankings able to make a good living, while at the same time having the opportunity to move up onto the biggest PGA Tour events as these changes happen.
To get to the designated events then you will obviously have to play well in the regular season events, but you also know that with a good two or three-week stretch you're going to move right up into the tournaments you want to be in.
It's instant gratification as well, knowing that a good run will get you into those events rather than you having to wait for another calendar year. I just think it's going to give the fans the best players – at that current moment – on people's TV screens or in front of them, which can only be a good thing.
Watch the PGA Tour season throughout the year exclusively live on Sky Sports! Live coverage of The Players is live this March on Sky Sports Golf, with coverage of the opening round live from 11.30am on Thursday March 9.