Rob Dorsett Q&A: Why the FA and Premier League 'fundamentally disagree' over rules for international players | Football News
There is fundamental disagreement between the FA and the Premier League over rules which place limits on international footballers playing in England, Sky Sports News can reveal.
As part of a special investigation, Sky Sports News has been told this is one of the biggest stumbling blocks in the negotiations about the future of English football, which have been ongoing since the publication of the fan-led review in November 2021.
In essence, the Premier League wants to see the rules relaxed to allow top clubs freer access to international markets that have been affected by Brexit. Meanwhile, the FA is adamant that stricter limits are needed, to give maximum opportunity to young English talent, and benefit the men's and women's national teams.
It is an argument between the commercial needs of the best and richest domestic league in world football, and the governing body which has a mandate to develop young English talent.
Sky Sports News' senior reporter Rob Dorsett analyses the situation…
As a fan, why should I care about this?
Because it will have a huge impact in determining the transfer targets of all English football clubs in the summer transfer window, and beyond.
Which international players can English clubs target? Which players would be allowed to enter the UK and gain a work visa and which players wouldn't? Will the rules be changed, and if so – how?
Former FA chief executive Martin Glenn says England's future success is at the heart of a dispute between the PL and the FA over international players playing in the top division.

I've spoken to key sources within the FA, the Premier League, the EFL and a number of football agents, and it's clear that – other than the issue of how football's finances should be organised – this is the single biggest area of disagreement between the FA and the Premier League, in the negotiations on the future of English football, following the fan-led review.
The Premier League clubs are desperate to see the rules relaxed, the FA is adamant it won't allow that, and actually wants to see stricter regulations introduced.
What impact are the current rules having on the Premier League?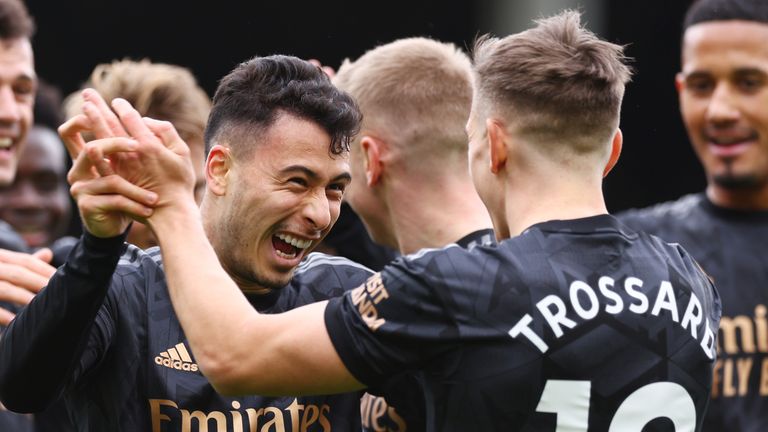 If you look at the last 10 seasons, the evidence is pretty startling. I've obtained some exclusive statistics from both sides of the argument, that have never been seen before.
Perhaps most eye-catching, is the fact that one in seven Premier League transfers that have happened in the last decade would have been ineligible under the current rules.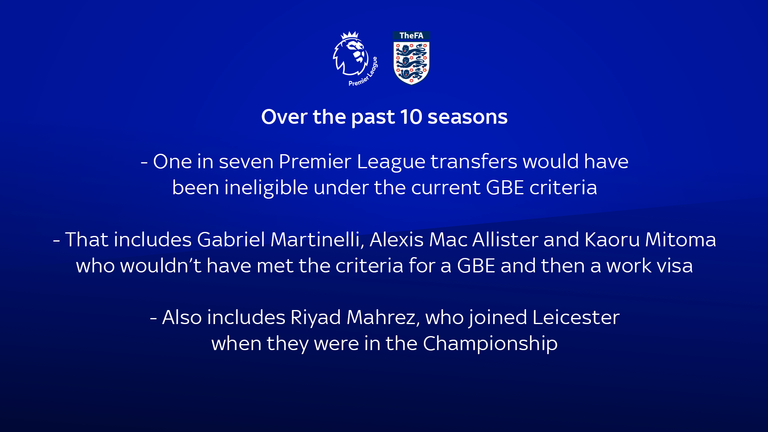 The likes of Riyad Mahrez, Gabriel Martinelli, Alexis Mac Allister and Kaoru Mitoma would all have been excluded from playing in the Premier League if they were trying to transfer here now, with the level of playing experience they had at the time they came to England.
In that same 10-year period, 35 per cent of transfers made in Europe into the other 'big five' leagues would not have passed the tests for those players to play in England. That's 35 per cent of players that Europe's big clubs have been able to sign, that the Premier League clubs have not been able to.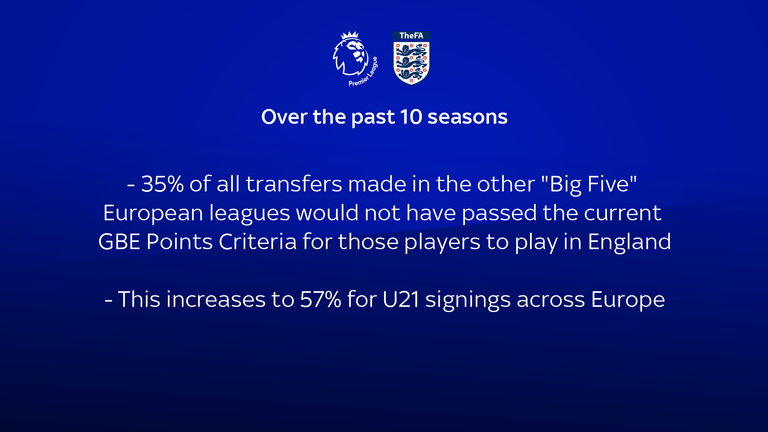 When you look at U21 players, the stat actually jumps even higher to 57 per cent of European transfers that have been off-limits to English clubs.
That's why the Premier League is pushing very hard for the rules to be relaxed, to allow them better and more 'equitable' access to players abroad and with their European rivals.
Sources close to the FA have countered this by saying Premier League clubs are each allowed to sign six international U21 players each season, using the Governing Body Endorsement (GBE) exceptions panel – but last season only Chelsea used all of those six spots.
So why is the FA against the relaxation of these rules?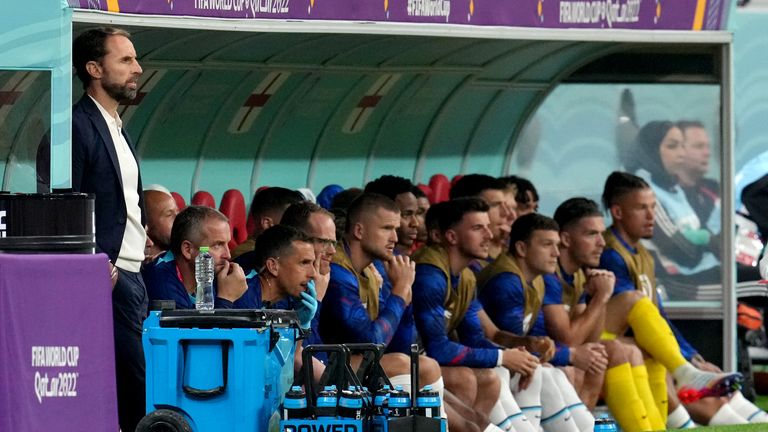 The FA would like to see the rules tightened, so that fewer international players were able to come to England to play.
The people I've been speaking to are adamant that, if more and more international players are signed to play in the Premier League, that will limit the opportunities for young English-qualified players to get on the pitch, and ultimately, that will damage Gareth Southgate and the national team's prospects.
The phrase used by one official was 'squad fillers'. The FA wants to see those lesser-quality international players barred from joining English clubs, so that those spaces can instead be taken by English-qualified players.
Again, the stats I've gleaned from this side of the argument are startling. French-qualified U21 players have so far amassed more than 70,000 minutes in Ligue 1 this season – by comparison, England's U21 players have managed just over 20,000 minutes.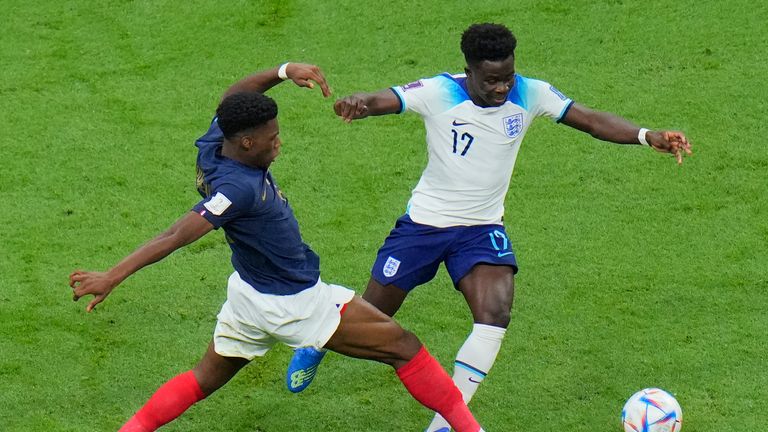 The FA argument is that France's youngsters are getting much more experience at a younger age, compared with their English counterparts, and that is providing much more depth to the French national team resources.
Look at the World Cup quarter-final in Qatar, where France were without seven key players because of injury, including Karim Benzema, Paul Pogba, Ngolo Kante and Presnel Kimpembe. Yet they were still able to field a team capable of beating a near-full strength England side.
The stats show that England are fourth out of the five top European Leagues in terms of minutes for U21 players this season – behind France, Spain and Italy, with only Germany below England.
Only two of the England U17 World Cup winning team of 2017 progressed to the World Cup squad last year – Phil Foden and Conor Gallagher. The FA wants that to change, and feels the lack of progression is because of a lack of game time for those youngsters.
One FA insider told me: "We are very supportive of the Premier League and the clubs, but we cannot allow changes that would damage the England men's and women's teams."
What does the Premier League have to say about those points?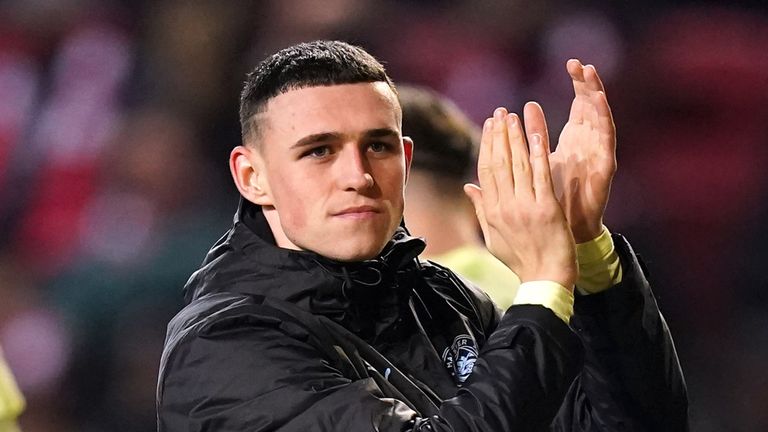 Premier League insiders tell me that this season is an anomaly, and that the trend is for young English players to outstrip most of their European competitors. They also say that the quality of those minutes played is key.
As one official told me: "It's not just about the minutes played by a young player – it's about the quality of football that player is being exposed to.
"And, quite frankly, 30 minutes of Premier League football is worth more than 60 minutes of football in Ligue 1, such is the difference in quality of football."
In its discussions with the FA, the Premier League has also pointed out that, when it comes to minutes played in the Champions League, English-qualified youngsters are getting much more game time than any of their European rivals.
It also says that the £2bn-worth of investment in the English academy system in the 10 years since it was first introduced, has hugely benefitted the development of young English talent for both domestic and national teams.
It is adamant that, for young English players to thrive, they need to train with the very best team-mates available, and so having elite international players as part of those EPPP academies can only benefit Southgate's players in the future.
Twenty five of England's 26-player World Cup squad in Qatar, it points out, have been through the academy system, with 15 of those spending at least three years inside the Elite Player Performance Plan (EPPP).
How do governing body endorsements work?
If you are an 'international' player – ie. a non-UK passport holder – you have to get a work visa from the Home Office to be able to play in the UK.
Since Brexit, that applies to any player coming from Europe as well.
To get a work visa, you have to have what's called a GBE from the FA. So it's the FA which ultimately decides if a player is of high enough quality to be worthy of a move to play in England.
The Premier League doesn't like that – a system whereby how its clubs spend their money and which players they can sign, can be vetoed by the FA.
And there is a points system to assess whether a player meets the criteria – which is the same sort of system used to decide if plumbers, IT experts or nurses can come from abroad, to work in the UK.
An international player needs to have 15 points in order to be eligible for a GBE. Those points are awarded based on how many international appearances you've made, how many domestic games you've played for your club, and how good the standard of football is in the domestic league you play for.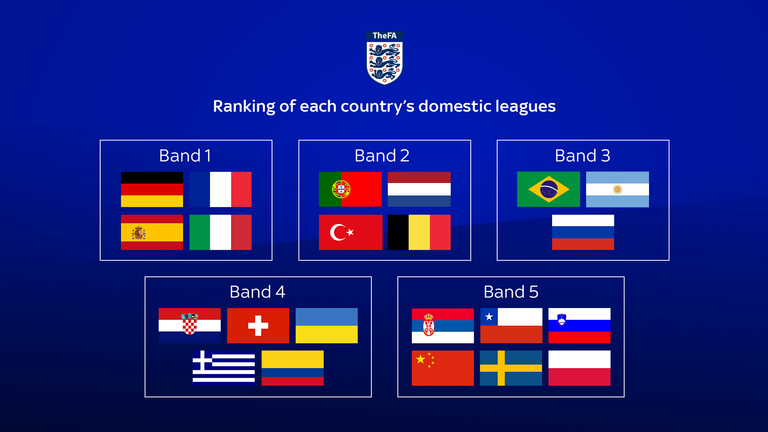 From this table you can see that, if you're a Premier League club – or a Championship club, for that matter – it's much easier to sign a player from Germany or France in Band 1 than it is from Poland or Sweden, who are in Band 5.
But, of course, established international players from the Band 1 countries are proven, top-class internationals, and so Premier League clubs say they are much, much more expensive than the unproven talent they might be able to buy and improve, from the lower bands.
Looking at the two highlighted areas in the next table, if you are French and play in 30 per cent of your country's international matches, you will automatically qualify for a transfer to the Premier League.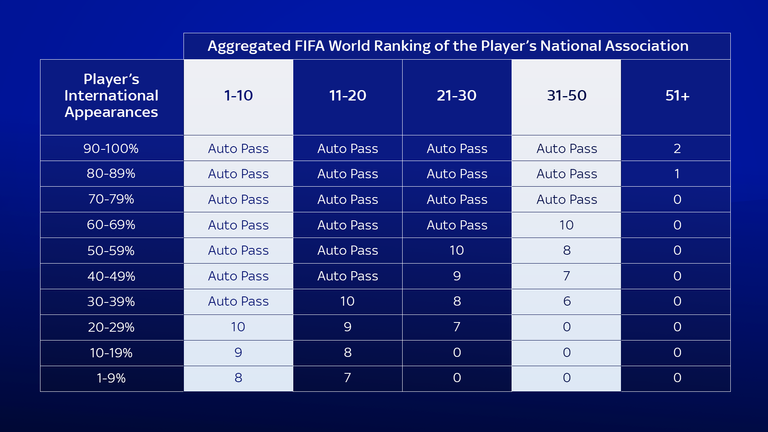 If you are a Chile or Nigeria-registered player, you need to have played in 70 per cent of your country's international matches to automatically qualify for a transfer to the Premier League.
Why are Premier League clubs no longer allowed to buy 16-year-old players from abroad?
FIFA has a blanket ban on any U16s transferring to a club in another country, with very few exceptions.
One exception was that those regulations were against EU law, which allows for freedom of movement for all employees from the age of 16.
And so, when the UK was in the EU, English, Welsh and Scottish clubs were allowed to sign 16-year-olds from abroad.
But since Brexit, not any more.
Sports lawyer Tim Bailey, who has been involved in over 500 international transfers, has explained to Sky Sports News how Premier League clubs are having to be creative in getting around FIFA's strict transfer laws.

The Premier League clubs says this has put them at a huge competitive disadvantage to their European rivals, who can snap up young talent when English clubs are not able to.
It's important to say that addressing this issue is beyond the remit of the FA – it couldn't change this rule, even if it wished to. It is a mixture of FIFA regulations and EU law, and is beyond the FA's control.
It is, though, a key factor in why a number of Premier League clubs have now entered into co-operation agreements with 'sister' European clubs – such as Manchester City, Southampton and Leicester City.
Those clubs, because they are still in the EU, are allowed to sign 16-year-olds. They can then be trained in a similar standard to the Premier League squads, and – crucially – given the game time to earn enough points, so that they can gain a GBE and potentially be transferred to the Premier League 'parent club' once they reach 18.
What is the EFL's position on this?
The EFL's position is a bit different – it is caught in the middle, to a certain extent.
It doesn't want more unregulated international imports – remember, the vast majority of the EFL's income from transfers comes from selling players to the Premier League.
On the other hand, the EFL has played a key role in developing talent for the England team – 23 of the 26-man England World Cup squad were developed in an EFL academy, played in the EFL, or made their debut in an EFL competition.
So it's fair to say it's a watching brief from the EFL, which can appreciate the strength of argument on both sides.