Urs Fischer's Union Berlin success in the Bundesliga and beyond cannot be explained but it must be admired | Football News
What is the greatest story in European football right now? Perhaps Napoli storming to a first Serie A title in 33 years might be the most glorious. But Union Berlin finding themselves on the fringes of a Bundesliga title race in March must rank as the most inexplicable.
The team with one of the smallest budgets in the Bundesliga continue to defy logic and the opposition. Even promotion was a miracle in the eyes of the supporters who famously helped to build their stadium in the forest. Just staying up was special.
Now that has morphed into so much more, with critics continually confounded. Qualification for the Europa Conference League was supposed to be Union's undoing. They promptly qualified for the Europa League instead. The Champions League? It is a possibility.
Most now realise it would be crazy to keep betting against them. Into the last 16 in Europe after eliminating Ajax, fans are bewildered, yet to wake from the dream. Nobody knows what to think. Everyone agrees all this would be impossible without Urs Fischer.
What is it about the 57-year-old Swiss coach that has unlocked potential few had considered even latent? Union's back three at Bayern Munich last month did not have a cap between them. Their internationals come from Suriname and Tunisia, Norway and Austria.
Christopher Trimmel is that Austrian, the 36-year-old captain who spent five seasons in the second tier with Union prior to this unexpected addendum to his career. Until recently, star midfielder Rami Khedira was more famous for being Sami's little brother.
Fischer himself is an enigma. He is said to be happiest with a fishing rod in hand, an example of nominative determinism in action. An unshowy type, he is neither a politician nor a philosopher in an age where it is often demanded that coaches be both.
Consider his back-to-back titles with Basel. He was nevertheless dispensed with when the club had a change of ownership in 2017. They were going in search of football more fashionable – someone more fashionable. Basel have not won the title since.
Bernhard Heusler was the outgoing Basel president, a man entitled to an I-told-you-so or eight given the subsequent struggles to replicate the number of consecutive league titles that were won between 2009 and 2017. He focuses more on defending Fischer.
"It sounds strange but his time there was not easy," Heusler tells Sky Sports. "He came in a moment when our teams had been six-time Swiss champions, Champions League nights, a Europa League semi-final, so people were quite used to huge success.
"They got kind of spoilt and were not realistic in their demands. It was difficult to make people happy in a situation where they had been so spoilt in the past. They did not appreciate what he did. They were intoxicated by success. Urs felt it as well.
"New people came with new ideas so it was not so surprising that one of their new ideas was to have a new coach. Nowadays, it is easy to act as an expert after the fact. From today's perspective, it is very easy to say that this idea was totally wrong.
"But, at the time, many people in the media were happy with the change because they were not so happy about the football that was being played, even though we had won the double. They were of the belief that anybody could be successful with this team."
Fischer left having earned respect. A banner reading 'Never One of Us' had greeted his arrival, a reference to his long association with FC Zurich, with whom he had been within a point of toppling Basel in a previous job. Upon his exit, the banner read 'One of Us.'

Sunday 12th March 6:20pm


Kick off 6:30pm

Nevertheless, it is telling that two Swiss titles were only enough to take him to Germany's second division. Sometimes it is the circumstances that make the man – and the coach. Fischer was a victim of high expectations at Basel. In Berlin, there were none.
That is not quite true, of course. There were demands, just not for success or free-flowing football. The non-negotiable at Union was effort and that chimed with a character who instinctively understood the ethos of the supporters who stood on the terraces.
The demand for results removed, his Union churned them out.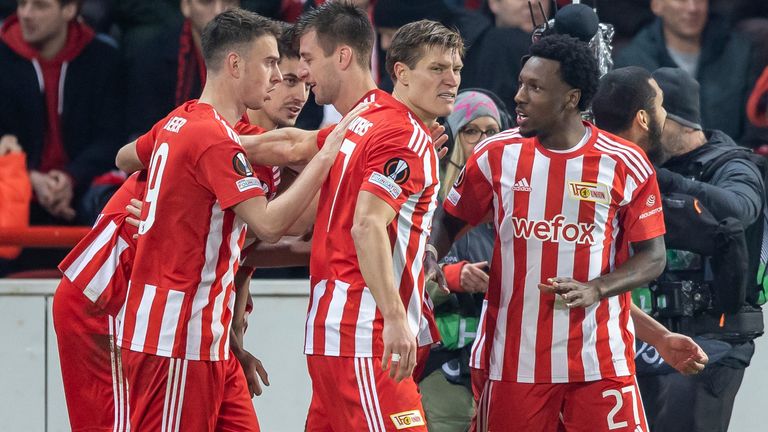 Still, Fischer can find himself overlooked. He is not one of the seemingly endless supply of excitable young German coaches eager to impress either the Bayern board or prospective employers abroad by preaching gegenpressing and attractive football.
Bayern and Dortmund are the top two teams for possession in the Bundesliga. In stark contrast, Union rank among the bottom three. They attempt the fewest dribbles of any team. But their 5-3-2 formation stifles and strangles. They are as tough as they come.
In conversation with Christoph Biermann, while watching Fischer's side swarm all over Jude Bellingham and a talented Borussia Dortmund team earlier this season, the veteran German reporter who spent a season embedded within Union tries to explain the alchemy.
"Urs Fischer really is a top coach," Biermann tells Sky Sports. "People do not recognise it because he is not very good at marketing himself. Actually, he refuses to. Sometimes the other members staff are, I would not say frustrated by it, but have to encourage him.
"If Jurgen Klopp is at one end of the spectrum, always finding the right phrase to explain the situation, Urs is at the opposite and he knows it. But he looks duller than he is. He does what he has to do on the training ground and in the dressing room."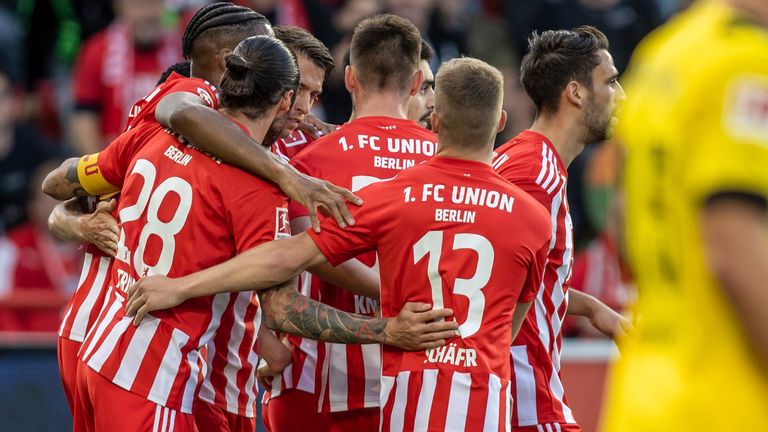 Asked what impresses him most about Fischer, it is leadership that Heusler, his old president at Basel, picks out. This is the quality that helps to forge the tight bonds and the sense of unity that is essential if teams are to achieve more than thought possible.
Humility is a feature too. As a player and captain, Fischer had once allowed the FC Zurich president to lift the cup before him. As a coach, he asked his president to give the address before the cup final win that completed the double. For Heusler, it was emotional.
"He did not do it to do me a favour, that is not Urs. He thought the input of another person could help. It was a special moment for me. He has that instinct for leadership just by being credible, having key values, and a very direct and honest way of communicating.
"Being a coach requires a lot in terms of leadership since a coach has to disappoint half of his squad every weekend by telling them that they are not going to play. On the other hand, his success often depends in the long run on these people who he has disappointed.
"During my time with Urs I never had any complicated conversations with players who felt they were not treated in the correct way. So, even those players who he disappointed with his sporting decisions, they accepted it due to his character as an honest person.
"Those numbers 12 to 24 can make the difference in the long run. I think that is maybe the greatest achievement you can have as a coach. That, at the end of the day, the entire squad is behind you. From a leadership perspective, this impressed me the most."

Sunday 19th March 2:20pm


Kick off 2:30pm

It is coaxing something extra from players others had missed. Sheraldo Becker was signed from ADO Den Haag and failed to score in his first season with Union. In August, the striker became the club's first player to win the Bundesliga player of the month award.
Robin Knocke was signed on a free transfer from Wolfsburg. Khedira was picked up the same way from Augsburg. As Biermann explains, the individuals will be lauded for their improvement but it is how Fischer is utilising them that is the secret.
"It is about recruitment but it is also about what Urs is making of these players. If you look, for example, at Rani Khedira, he was always a proper Bundesliga player but now he looks a class Bundesliga player because they have worked with him so much.
"They have shown him videos explaining exactly what they want from him in his midfield role and he has made the adjustments in his game. You can see that improvement with almost every player who has worked under Urs. And if they do not get it, then they leave.
"Just look at them. They are so organised defensively that the man on the ball is always under pressure. Everybody is helping everybody else so there are almost no gaps. In the Bundesliga, there is nobody that is better organised defensively.
"It is a decent team that is full of confidence. They have some quality but it is not as if the clubs in the Premier League are queuing up to buy their players. But everyone has a positive attitude here. The fans never boo a player or pick on him if he is having a bad day."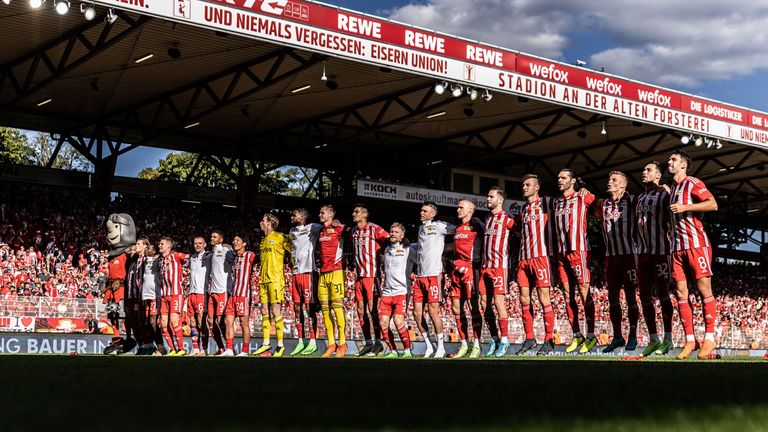 Union by name and by nature, they are succeeding by doing it differently. The data science had begun to suggest that crosses were inefficient. Union attempt more of them than any other team. Pressing is now de rigueur. Union render it useless by playing over it.
They remain a mystery to many, a team of contradictions. Union can appear to allow their opponent the ball but have somehow conceded among the fewest shots of any Bundesliga team. Getting the ball off them and getting at them are two different things.
Attack Union and they will counter at speed with the pace of Becker. Sit off them and they will use the territorial advantage to hurl balls into the box from wide areas and then pick up the second balls. No team in the Bundesliga has won more aerial duels.
It is a template embraced by an enthusiastic group of players and by supporters untainted by success. It is a template masterminded by the underestimated Urs Fischer, a happy union of coach and club coming together to create one of the stories of this or any season.