Why has the PGA Tour changed their schedule and what could it mean for non-designated events? | Golf News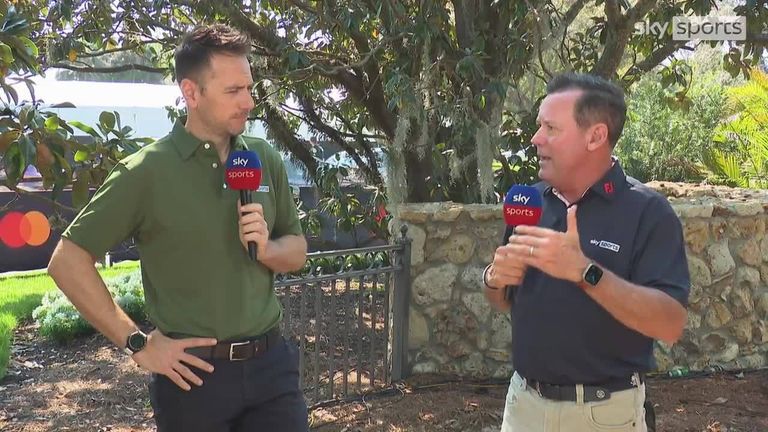 Rich Beem shares his excitement with Nick Dougherty about the big changes to the 2024 PGA Tour, focussing on designated events that will bring the best players all in one place.

Rich Beem shares his excitement with Nick Dougherty about the big changes to the 2024 PGA Tour, focussing on designated events that will bring the best players all in one place.
Andrew Coltart thinks the changes on the PGA Tour for this year have so far been excellent, but questions whether the proposed 'no cut,' limited fields may be an unnecessary step too far.
I believe in a system of meritocracy, so I think people who win their PGA Tour card should get to play the tour and not just part of it. You've earned your right to play in the 'Premier League' of golf, haven't you?
In the face of stiff competition, the PGA Tour has nailed these elevated events so far this year, with the WM Phoenix Open, Genesis Invitational and now Arnold Palmer Invitational providing some of the best and most enthralling finishes with the strongest fields we've seen outside the majors.
The best are playing together and it's happening more often. Interest is at a peak. Job done! Now, new proposals have been brought forward: reduced fields and No Cut. They are interesting to say the least, but are they really necessary?
There's going to be lots of things to consider when making these changes for 2024, with one in particular being that there are too many exempt and eligible players. There are in excess of more than 200 eligible players for fields of around 144, so it's surely time to whittle down that number. Otherwise, players just simply aren't going to get the chance to play.
I worry that promoters of non-designated tournaments, where the strength of field and world ranking points on offer drops off a cliff, may choose to invest elsewhere. If you can't get big names into your event, would you end up getting the bang for your buck you expect?
There is a big market out there and of course big players don't play small events by choice. Of course, if that happens, then the playing opportunities for what some might perceive as 'the also rans' becomes massively affected as it is probably restricting their climb to these upper echelons. I realise the business isn't built on these individuals, but the top players have always climbed that ladder.
The Players Championship Live
March 9, 2023, 11:30am
Live on
The no-cut system proposal is also interesting. We had these with the World Golf Championships, which have all but gone now. Cuts, whether making or missing, play a huge part in our game, as they add jeopardy and bring the game closer to real life.
Cuts mimic struggles of holding down a job and that's where the real pressure lies. Missing cuts are simply horrible, but they make you play more and play harder. You have to enter another event because a cut missed loses you points and financial ground. The only way to recoup that is to play extra events, so surely that's a good thing?
Also getting paid for doing a job poorly doesn't, in my mind at least, promote growth or improvement. There are clear examples out there today and you don't have to look too hard. It doesn't happen at the lower end arguably, where it's needed, so why should it happen to the boys at the top where they wouldn't miss a few thousand here or there?
They've earned that right to be there and I agree to a certain extent, but by giving them points and pounds while underperforming you are slowing down the natural evolution within the game, potentially inhibiting the progress of those coming behind.
We had it during the WGC's and it appeared to give some players who were struggling with their game at that moment a year's grace to sort their form out. A luxury ill-afforded to those who cannot take part in the ' no cut 'events.
Having cuts and near full field events helps bring new names into the game. It helps the game stay vibrant and fits the growth narrative well. Should they implement these new changes? I'm not sure we can beat what we've recently witnessed.
How does it compare with the DP World Tour?
I look at the DP World Tour, where we have had events that were elevated status to attempt to try and attract more players to come and play. The idea was that it would financially lift all the other events around it, but of course that only happens in a perfect world.
It arguably meant that a majority of our players played for less money and world ranking points. The smaller events went unsupported by our stars and those events dwindled, with the only way to get stars to play was often by getting one to be a host of an event. It gives them a lot of publicity and provides a public platform that they are giving back to the game.
The DP World Tour was potentially under threat before the strategic alliance with the PGA Tour and they had to get a lot of heads together to try and figure things out, although you're obviously never going to please everybody.
There's a lot of people out there who thought they knew a lot of things, players and caddies alike, who knew absolutely nothing at all. It was a very, very uncertain time for the game in general and the DP World Tour did not have the luxury the PGA Tour did, so they did what they had to do to survive.
The Players Championship Live
March 8, 2023, 2:00pm
Live on
Both tours have had a relationship going on for 40 plus years at least, and it was a good opportunity to work even closer and give access to more DP World Tour members to unlock the rewards available to top class touring professionals.
There has been the suggestion that Europeans are too comfortable back home, where they tried America but didn't work hard enough to stay, but I don't buy that. European players have taken a while to acclimatise to all the changes when they go over there, as it's a totally different lifestyle and doesn't have the familial feel of the DP World Tour.
There's so much more camaraderie in Europe, which is something that they have benefitted greatly from in recent Ryder Cups. Traversing the pond can be an even more lonely existence, with the time away from friends and family often taking its toll. That's why some players have struggled to find their feet on US soil.
There are now some very good opportunities for the DP World Tour players to play a more global schedule through this strategic alliance and that route to the PGA Tour should be something they look to target.
Watch The Players throughout the week live on Sky Sports. Live coverage begins on Tuesday with the 'Live from The Players' show at 2pm, while the opening round is live on Thursday from 11.30am on Sky Sports Golf!